Helping Young Musicians Achieve Academic Success
 In alignment with our overarching goal of removing barriers to increase access to higher education, since 2018 100% of our seniors have graduated high school and enrolled in college. 100% are entering college as the first generation in their families. This number is 48 percentage points higher than the Arizona college-going rate of 52% as reported by the Arizona Board of Regents.
Please allow us to proudly present to you our seniors' accomplishments and their future careers
0

+

Zip codes in the greater Phoenix Area
0

%

Attendance Rate in 2021-2022
0
Total annual number of hours of student instruction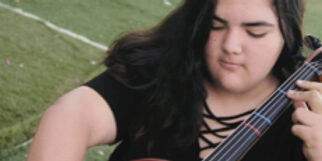 What does Harmony Project Phoenix mean to you?
"Harmony Project Phoenix is a wonderful program that has allowed me the opportunity to come together with other diverse students to experience and appreciate the many different types of music."
- Christina Ayala
8th Grader, Pan-American Charter School
What is social return on investment of Harmony Project Phoenix?
$1 : $4.89
A recent study conducted by the Community Service Analysis LLC indicated that the "long-term social economic impact analysis of the consequential outcomes of the Harmony Project Phoenix services shows a 10-year projected net impact of $1,382,000, of which 85% is composed of increased employment earning when compared to high school students who do not complete a Bachelor's degree by attending college… For every dollar of funding received, the program delivered $4.89 in current (discounted Net Present Value) of positive economic benefits to the community.